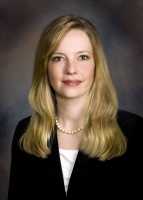 Glankler Brown, PLLC is pleased to announce that Leigh Taylor White has been named to the Board of Directors of the Boys and Girls Clubs of Greater Memphis (Downtown Porter Boys and Girls Club).
Since 1962, Boys & Girls Clubs of Greater Memphis has offered leadership and support to thousands of youth ages 7 – 17. Through one-to-one interaction with trained adult staff, Club members learn to make positive decisions about their lives. They do better in school, stay away from drugs and gangs and begin to set personal goals for themselves, which ultimately helps them be responsible citizens of our community.
White practices in civil and criminal litigation, focusing on federal civil rights and family and domestic law. Prior to joining Glankler Brown, she served as a law clerk under the Judge David M. Ishee in the Mississippi Court of Appeals.
She received her bachelor's degree in philosophy from Rhodes College and her juris doctorate from the University of Mississippi School of Law. White is admitted to practice in Tennessee, Mississippi, the U.S. District Courts for the Northern and Southern Districts of Mississippi, the U.S. District Court for the Western District of Tennessee and the U.S. Court of Appeals for the 5th and 6th Circuits. White is a member of the ARTitude, and serves as a volunteer for Memphis Area Legal Services Inc. and the Community Legal Center.
Glankler Brown, PLLC is a full service law firm with experience in more than 30 different focus areas.