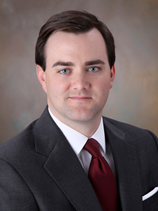 Glankler Brown, PLLC is pleased to announce that Andrew J. Sakalarios has joined the firm as an Associate.
Andrew J. Sakalarios concentrates his practice in tax, trust and estate, and general business law. His practice focuses primarily upon estate planning, including the drafting of wills and trusts, as well as estate administration, including the preparation of inheritance, gift, estate and income tax returns. He received his Master of Laws in Taxation and Certificate in Estate Planning from the Georgetown University Law Center in 2008. Mr. Sakalarios received his juris doctor degree, cum laude, as well as his Master of Accountancy, from the University of Mississippi in 2006. Mr. Sakalarios also received his Bachelor of Business Administration from Texas Christian University in 2003.
Mr. Sakalarios is a member of the American Bar Association's Section on Real Property, Trust and Estate Law, and a member of the Mississippi Bar's Section on Estates and Trusts and the Young Lawyers Division. He is also a member of the Louisiana State Bar Association's Section on Trusts, Estate, Probate and Immovable Law, the Section on Taxation, and the Young Lawyers Division.
ABOUT GLANKLER BROWN: Based in Memphis, Tennessee, Glankler Brown, PLLC attorneys represent clients with matters throughout the United States and abroad. In addition to Tennessee, the firm's attorneys are licensed in Mississippi, Arkansas, Alabama, Illinois, Maryland, and the District of Columbia. With experience in more than 30 different areas of law, Glankler Brown's attorneys deliver quality legal services to local, regional, national and international clients.
« Back