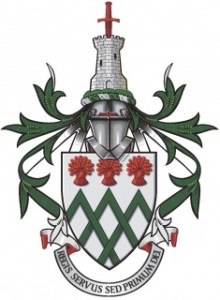 September 30, 2011- Memphis, TN- It was officially announced today that Robert Hutton has been granted a coat of arms by Her Majesty, Queen Elizabeth's Royal College of Arms. Under English heraldic law, arms are granted to "eminent men" which has been interpreted to allow grants to men and women for exceptional service to society at large. This grant was premised in part upon Robert Hutton's work as an attorney representing persons in capital cases and significant civil rights cases. The arms bear the new family motto "Servus Regis sed Primum Dei" which translates "Servant of the King but of God first."
Mr. Hutton has substantial litigation experience. His credentials include having argued several cases before the United States Court of Appeals, the Tennessee Appellate Courts and the Tennessee Supreme Court. Mr. Hutton is privileged to be one of the few attorneys to have argued a case before the United States Supreme Court.
Mr. Hutton practices generally in litigation, with substantial experience in federal civil rights, constitutional law, general business litigation, and criminal law.
Mr. Hutton serves as a member of the Board of Directors and officer of Chuck Hutton Chevrolet Co., and as general counsel for the Chuck Hutton Companies. Mr. Hutton also serves as Chairman of the John Buckman Charitable Trust.
ABOUT GLANKLER BROWN: Based in Memphis, Tennessee, Glankler Brown, PLLC attorneys represent clients with matters throughout the United States and abroad. In addition to Tennessee, the firm's attorneys are licensed in Mississippi, Arkansas, New York, Louisiana, Alabama, Georgia, Illinois, Maryland, and the District of Columbia. With experience in more than 30 different areas of law, Glankler Brown's attorneys deliver quality legal services to local, regional, national and international clients.
# # # #