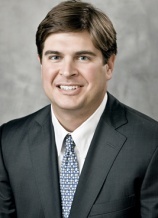 March 16, 2012- Memphis, TN- Glankler Brown, PLLC is pleased to announce that Don L. Hearn, Jr. has been promoted to Member of the firm.
Mr. Hearn's practice includes a wide range of complex commercial litigation in the areas of general and business civil law, construction law, trust and estate law, medical malpractice law, intellectual property law, and employee benefits law. Mr. Hearn has experience in aggressively representing the interests of his clients through litigation in Tennessee state and federal trial courts and oral argument at the Tennessee Court of Appeals and the Court of Appeals for the Sixth Circuit. In addition, Mr. Hearn has experience resolving disputes to his clients' benefit through alternative dispute resolution vehicles, including negotiation, mediation, and arbitration.
Mr. Hearn has extensive experience representing companies and individuals in the complex world of construction law. He has represented owners, architects, engineers, and contractors in construction disputes relating to proper payment under construction contracts and relating to claims of defective construction work.
Mr. Hearn has experience in handling matters on behalf of local and regional clients under various issues regarding the Employee Retirement Income Security Act of 1974, as amended (ERISA). Mr. Hearn has represented businesses, governmental units and other clients of diverse sizes in a range of ERISA employee benefits matters, including ERISA planned design, drafting, implementation, and administration. The drafting implementation amendment and administration of various types of employee benefit plans and compensation arrangements include health, life, disability and other employee benefit plans, 401(k) plans, cafeteria plans, health savings accounts (HSAs) and other compensation arrangements and tax incentive arrangements which involve ERISA and COBRA.
On the litigation side, Mr. Hearn has substantial and extensive experience in handling complex litigation on behalf of employees seeking benefits under employee benefit plans such as disability, life or health, and he has also represented employers, planned fiduciaries, third party administrators, insurers and other providers of employee benefit plans and programs in the defense of claims for employee benefits.
Mr. Hearn has represented a variety of businesses and property owners located in the mid-south over contract disputes, limited liability company member disputes, lease disputes involving collection of rents and other payments due under lease agreements, unfair competition claims, violations of the Tennessee Consumer Protection Act, violations of the Tennessee Trademark Act, and violations of other business laws of Tennessee.
ABOUT GLANKLER BROWN: Based in Memphis, Tennessee, Glankler Brown, PLLC attorneys represent clients with matters throughout the United States and abroad. In addition to Tennessee, the firm's attorneys are licensed in Mississippi, Arkansas, Alabama, Maryland, and the District of Columbia. With experience in more than 30 different areas of law, Glankler Brown's attorneys deliver quality legal services to local, regional, national and international clients.
# # #