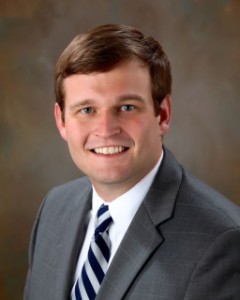 Tell us about your role at Glankler Brown.
I work primarily with Hunter Humphreys, but assist all members of the Real Estate practice group on commercial real estate deals. My goal is to grow my own client base, advising clients with respect to real estate matters and business transactions.
What hobbies do you enjoy outside of the office?
I currently play basketball in a league at the Jewish Community Center and I participate in the Memphis Bar Association's Young Lawyers basketball league. I also just bought a new home and I've been busy with the usual homeowner projects. I've taken many, many trips to Lowe's and Home Depot.
What book did you last read?
I enjoyed The Corrections by Jonathan Franzen- it was a great read! It took me a while to really dig in but once I did, I couldn't put it down. It follows the lives of a dysfunctional family and delves deep into the familial issues surrounding society as a whole, ultimately sending a message about reconciliation and hope. It's funny and meaningful and I would definitely recommend it.